Hospital Information System (HIS)
Watch Webinar on Hospital Information Management System
Hospital Information System (HIS)
Hospital information systems provides common source of information about a patient's health status, and doctors schedule timing.
These days all HIMS Hospital are being setup with HIS systems gives an upper-hand to the healthcare professionals by providing Patients health information and visit history of the place and time whenever needed.
Laboratory test information of the patient's visual results like X-Ray can be easily made accessible for the reference of healthcare professionals.
Hospital Information Management System simplifies the workflow pattern of hospitals by digitizing the complete operations of the Hospital.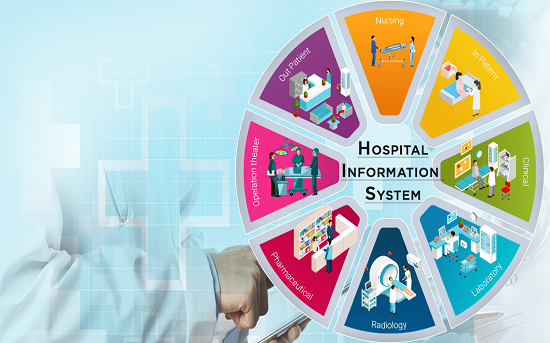 The Hospital information system consists of two parts such as Clinical Module and Administration module. The Clinical module of this system works by concentrating on the patient centric activities like appointment for patients, registration, billing, medicines, doctors, treatments, surgeries. The module reduces the effort of tasks for consultants and doctors enabling them to spend more time with patients also enabling them to see more number of patients, than usual.
The Administration module of hospital information system takes care of back office information such as accounts, stores, asset management, human resource management, corporate billing, insurance billing and so on, which also acts as an important module for the hospital management to keep track of the revenue, outstanding payments, purchases and stocks.
Benefits of Hospital Information System
>> Some of the advantages of the hospital information system (HIS) are: Errors are greatly reduced, increases the overall satisfaction of the patient and thus foot fall increases.
>> HIS provides improved monitoring of drug usage and study on the effectiveness of drugs which leads to the reduction of adverse drug interactions.
>> HIS enhances information integrity, reduces transcription errors, reduces duplication of information entries.
Electronic Medical Records (EMR)
EMR stands for electronic medical records which is a digital equivalent of paper records/charts at a clinician's office including Pre-Natal and Ante-Natal Records..
EMRs contains complete health information of a patient such as demographic information, treatment underwent and the medical histories collected by the practitioner/assistant, immunization plans if any, medications, allergies, radiology images, laboratory test results.
This information will be effectively secured by Electronic Medical Record Companies making the data always available for the practitioner to make decisions towards treating patients efficiently.
Information that is stored in a Cloud Server which is highly secured with HIPAA compliance which enables the patient data to be made available at any location or anytime the practitioner is need to have a look on the patient data managing the treatment.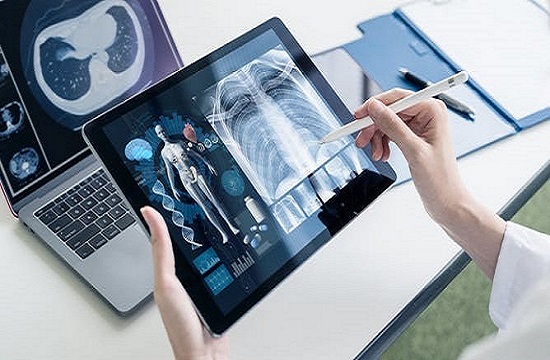 As we are still surviving this phase of pandemic, EMR (Hospital Electronic Health Record Systems) is being made mandatory for all Hospitals by Ayushman Bharat for their Network of Hospitals with best EMR systems.
How is EMR different from EHR?
EMR is generally a digital version of a patient's medical information and history from a single provider, whereas EHR is a digital record of total health of the patient seen by various healthcare providers.

EMR cannot be shared with another healthcare provider, whereas EHR is designed to easily share health information across various healthcare settings and accessed by multiple users in real-time.

EMR does not allow patient information to be sent outside the practice. EHR allows a patient's medical information to be accessed from different places.

EMR originally not designed to share outside the individual practice whereas the sharing aspect of EHR is a more simplified and real-time information.

Unlike EHR (Electronic Health Record Software), where the patients have role-based access to the system which enables them to enter and edit data, EMR lets the patient to view the data not providing any access to edit or enter a data.
Benefits of Electronic Medical Records
>> Tracking a patient data for an extended period of time by multiple healthcare providers becomes easily accessible.
>> Identifies patients who are in due for preventive checkups and health screenings and for continuous monitoring of patient vitals.
>> EMR enables organization to provide precise and efficient care.
>> Since EMR is universal - a patients chart can be can be accessed at different healthcare facilities/branches with EMR systems, instead of having different hand written charts at different locations.
>> With an EMR system in place, you can prescribe and order the medicine confidently as you will know if the patient was prescribed medicine from another physician, also the information on medical problems and allergies that patient could have.
>> Using EMR systems, patients will receive the requested healthcare information in the form of electronic copies in no time.
>> With EMR systems in place, patient can receive the electronic copies of their requested healthcare information in no time, which also gives access to new and past test results among providers in multiple care settings.
ACME and TATA Communications have come together to offer the Electronic Medical Records service for Hospitals were ACME is well known for providing continuous support more than a decade, still continues to offer "A to Z" of the EMR service to the hospitals. Our support also includes training for your team in using the Solution efficiently and helps you see the desired outcomes.
Picture Archiving & Communication System (Cloud PACS)
Picture Archiving & Communication System also called PACS, is a Medical Imaging Technology used to store and digitally transmit electronic images and reports.
Especially useful while monitoring a Patient's Health where Health Records have been stored on a Cloud Server, for easy access by the Patient's regular Doctor from anywhere in the world.
Links Multiple Medical Imaging Devices such as CT, MRI, Ultrasound, X Ray etc by converting the files into the DICOM format, which enables them to be moved to any device or workstations for easy access and review by the Doctor from anywhere.