What is Telemedicine?
The Pandemic spurred the adaption of Tele-Medicine with the people, as a safe contact-less way to get personalised healthcare. Newer technologies from telemedicine solution providers helped Hospitals provide telehealth services which are far more comprehensive and inclusive than before mainly by incorporating Internet based diagnostic and monitoring tools and wearables. These help even to conduct medical examinations at remote locations in the physical absence of a Doctor to determine the severity of the illness and prescribe the right treatment.
Tele-health technology is now helping in setting up Virtual Clinics in Communities & E-ICUs in smaller satellite Hospitals. More details on these technologies are available in other parts of this website.
Providing In-person healthcare in India is challenging, especially when the Geographical distances are large with limited resources.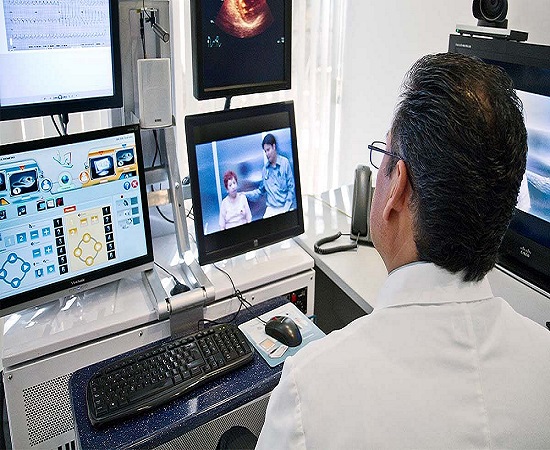 Cost effectiveness and reduction of effort for rural patients is the major advantage as they don't have to travel long distances for consultation and treatment. In such scenarios telemedicine provides optimal solution not just providing timely and quick access, greatly reducing the financial costs associated with the travel. Telemedicine plays a major role in instances where the need for the patient to physically see the RMP or other healthcare professional is not mandatory. e.g. for regular, routine check-ups or continuous monitoring.
These days, technologies being adopted for Tele-Medicine have become very affordable helping the Hospitals to even lower the costs of treatment. It also enables a better utilisation of the Senior Doctors as it is mainly the Nurses and Paramedics who meet and evaluate the patients at remote locations, far away from the Doctors who would be sitting at the Main Hospital. Telemedicine is thus a great tool and support system for the Doctors too.
Many Telemedicine Companies provide end to end remote patient monitoring systems. For Patients that are homebound, accessing their health information becomes important so systems like EMR / HER come into play. A nurse from hospital or from the team of telemedicine service providers can come and set up all equipment at any place to conduct the required test and transmit the data to the telemedicine doctor.
Telemedicine Advantage
There are innumerable advantages of using telemedicine consultation. The biggest one is the convenience it offers to the Patient. To be able to consult with the Doctor of their choice within the comfort of their homes.
For the Doctor the benefit from good advanced systems is that it enables them to connect with their patients with ease and provide real time monitoring of the Patient Vitals even those located in very remote areas. Today's communication technology enables this to happen. The doctor can start the consultation with the patient after reviewing their history through Medical Records available in the Cloud.
Other Major Advantages
"Deeper assessment" - Telemedicine provides greater advantage for certain specialities that can be deeply assessed in a home environment like certain things around which could be a stimulant for allergies; also it's a best way to assess patients who need mental health assessment and counselling.
"Improved accessibility" - Telemedicine has made it possible for patients who are in desperate need of speciality services like mental health treatment or post- surgery follow ups, speech therapy, to be able to access their healthcare providers without the need to travel long distance for an in-person visit.
"Less cancellations for service providers" - especially cancellations of appointments in the last minute. Patients always find it to be a convenient way of getting treated with ease.
"Reduced risk for healthcare workers" - most of the healthcare workers who work in frontline are greatly vulnerable to the chances of getting affected with an infection, with telemedicine the need of physical footfalls of patients can be greatly reduced thus making the typical hospital environment avoidable.
Our Role
ACME and TATA Communications have come together to provide some very practical applications of Telemedicine to the people of India.

Some of these are listed below. These solutions require a combination of Hardware and Software to manage the Application. We provide all these to you in the form of an end-to-end Telemedicine Solutions within the stipulated time.

Our support also includes training your team in using the Solution and getting the desired performance.